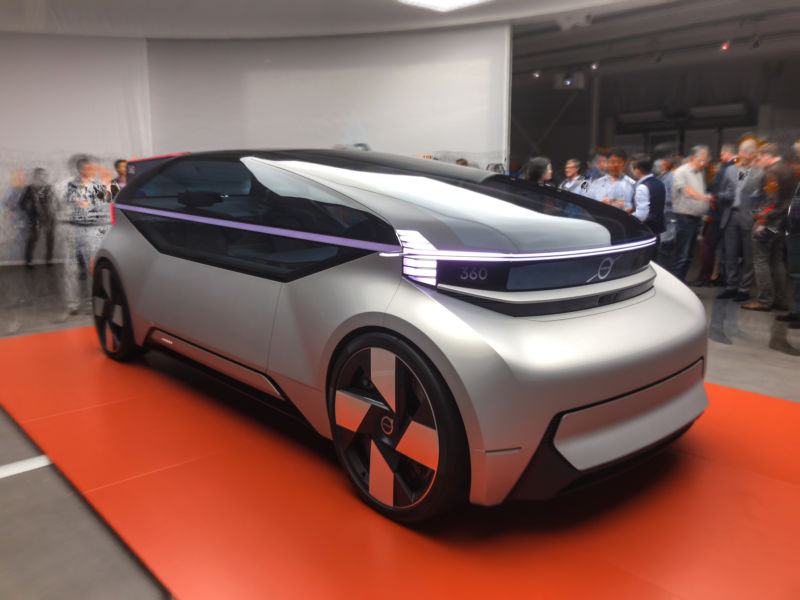 Because Volvo was only showing the 360c concept in Gothenburg, we elected to accept a paid flight and two nights in a hotel in Gothenburg in order to attend this event.
GOTHENBURG, SWEDEN—Concept cars come in a range of different flavors. There's the "you'll be able to buy a slightly less stylish version of this" concept, meant to get the public ready for a new model that's just months from sale. There's the, "Hey look at us (and ignore our bland production cars)" concept, like the Chrysler Atlantic or Cadillac Sixteen. And then there's the, "Let's imagine 20 years off into the future" concept. Volvo's latest, called 360c, is definitely one of the latter.
"This is an example of how new opportunities will open up with new technologies," said Volvo CEO and President Håkan Samuelsson as we got our first glimpse of the 360c. It's an optimistic reading of how Volvo thinks the company might evolve as electric propulsion, autonomous driving, and AI assistants make the process of getting from A to B much more multimodal.
Read 17 remaining paragraphs | Comments
[ad_2]
Source link