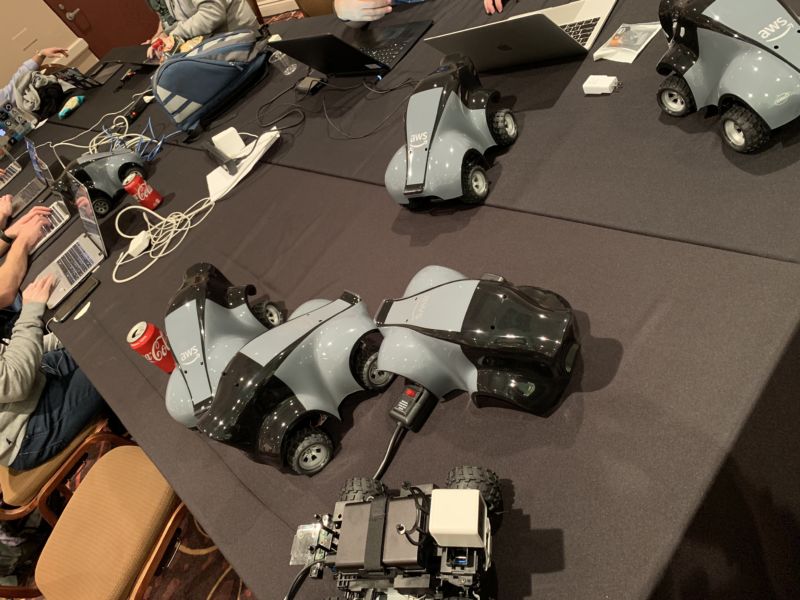 Sadly, there's one tech toy that Amazon won't be able to sell you for Christmas this year. DeepRacer is an autonomous 1/18th scale race car that was unveiled at Amazon re:Invent in November. But it won't be available until March 2019 at the soonest, so all you can do now is pre-order it on Amazon. It's too bad we'll have to wait, because this car could help developers understand reinforcement learning, a type of machine learning commonly associated with self-driving cars, and it should entertain hackers of all ages.
DeepRacer is really a full-blown Linux computer with wheels, running on an Intel Atom processor with 4GB of RAM. A closer look at its guts reveals that the car is essentially a modification of DeepLens, the video camera and computer combination released at re:Invent last year. For the new product, DeepLens has been set on wheels and seen the addition of an extra battery and some other bells and whistles. The earlier product has proven to be a popular learning tool for neural networks, but DeepRacer has an added bonus: competition.
The AWS DeepRacer League, Amazon's competition system for DeepRacer developers, will culminate with a championship each year at re:Invent. At the recent re:Invent conference, there were barely 24 hours allotted for developers to attempt to program DeepRacer cars and compete—but we were there to check out the action. DeepRacer cars, AWS accounts, and the entire MGM Grand Arena were pimped out to help developers create and test models. Participants could quickly get up to speed using two labs provided in Amazon's Github account.
Read 10 remaining paragraphs | Comments
[ad_2]
Source link