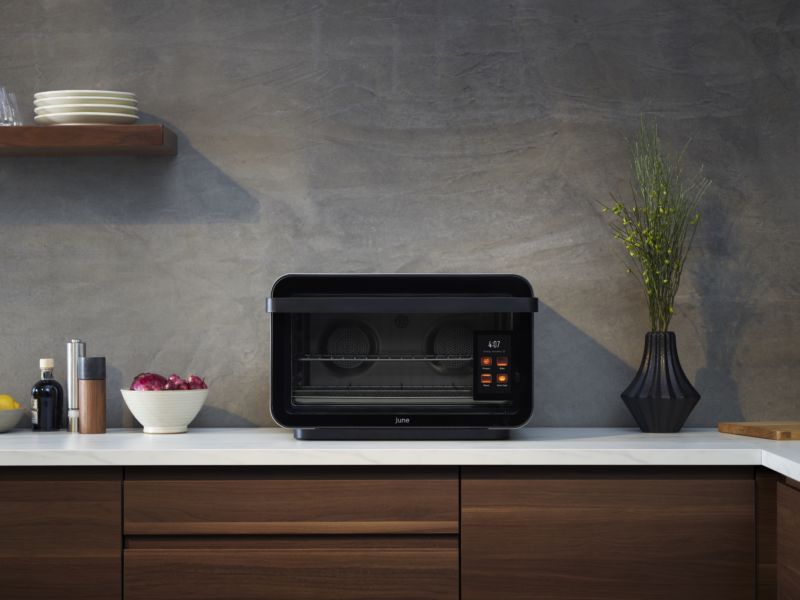 When my husband and I received a flashy, $250 Breville toaster oven for our wedding in 2014, we couldn't believe how awesome it was. It revolutionized the two-person meal in our household. We were freed from using the geriatric, unreliable oven that came with our apartment, and cookies, pizzas, and baked chicken dishes were now heated all the way through.
The best feature was the timer; you could pop a banana bread in there, set it for 40 minutes, and go walk the dog knowing that, when the 40 minutes ended, the Breville would shut off, and your food would slowly stop cooking. The Breville also broiled and roasted, too, so I could char peppers in the summer for salsa. Even four years after buying it, I've maintained that it's the best toaster oven out there.
Enter the June Oven. Ars heard about this Silicon-Valley marvel several months ago, and I was sent a review unit to test out. The appliance, which ships in February, is a $600 Internet-connected toaster oven that acts as a convection oven, toaster, air fryer, dehydrator, slow cooker, broiler, and warming drawer. (Although you'll need to buy June's Air Baskets separately to actually use the device as an air fryer or as a dehydrator, which will set you back another $50.) You can operate the June from the touch screen on the front or from the June app. Most importantly, there's a camera inside the oven, which totally changed the way I cook.
Read 44 remaining paragraphs | Comments
[ad_2]
Source link